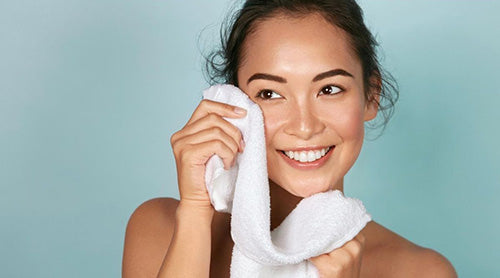 The Anti-Aging Step That Should NEVER Be Skipped
Pila Xian
Washing Your Face Daily! 
Yes, I know I sounded like your mom when she told you to wash your face daily. It turns out she's right. Washing your face is the one skincare step not to miss.
The Benefits Are Endless — Let's Take A Look…
Removal…
As I like to say, STOP EXPOSING YOURSELF. Yeah, that got your attention, right? As it should!
In our hectic lives, the face is "exposed" to sweat, dirt, pollution, and even bacteria (yuck, I know) daily.
As a result, washing the face is vital in removing excess oil and dirt. Every beauty routine should begin with cleaning your face properly. By washing your face correctly, you allow your skin to breathe. Keeping your skin healthy and youthful is about maintaining a regular skin cleansing routine, end of story!
Facial Cleansing Prevents Premature Aging
Wrinkles, uneven texture, and aging are all created by not washing your face, even if you don't wear makeup or sunscreen! All of the day's pollution and unseen grime accumulate on the face; you don't want that being used to "nourish" your face while you're sleeping.
Minimize the Appearance Of Pores By Washing Your Face Daily
Daily cleansing helps keep your pores looking as small and smooth as possible.
IMPORTANT: Pores don't become bigger – or smaller – but they accumulate dirt; when this happens, they will appear bigger.
The Benefits Of Using A Facial Cleanser Daily Are Endless
• Promotes hydration
• Boosts the effectiveness of anti-aging products
• Keeps oil production in check
• Sweeps away dry and dead skin cells
• Stimulates blood circulation, boosting blood flow to your face for glowing skin
How To Select The Correct Facial Cleanser
There are endless cleansers- from foam to gel, even powder cleansers making it confusing. I've got your "face"; these simple tips will help you select the right cleanser for your skin type.