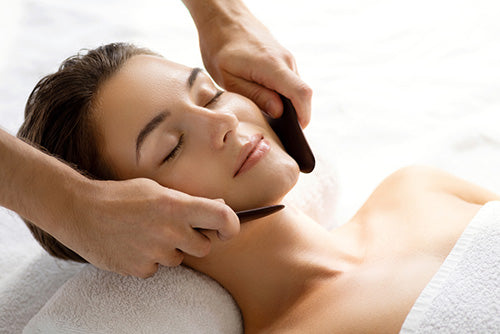 Natural Alternatives To Botox
Pila Xian
No one loves getting injections in their face—what they love are the results. But what if I told you that I've got some non-evasive natural alternatives to Botox for you at Heaven on Earth Day Spa. That's right, so if you want to find out how who can combat those 11's and other pesky lines on your face, prick-free continue reading!
Top Three Natural Alternatives To Botox
Number 1: Gua Sha
Gua Sha has been getting a lot of attention in the beauty realm — some think it's better than Botox! So, what exactly is this technique? Gua Sha (pronounced gwa-sa) stems from traditional Chinese medicine and is a flat quartz tool used to move toxins under the skin to tone and promote circulation for a more lifted, youthful appearance.
Facial Gua Sha is taking place as the natural facelift. So unlike Botox, that freezes the aging process by blocking signals from the nerves to the muscles. Gau Sha opens the pathway between the muscle and nerves, clearing any blockage, removing toxins, promoting drainage of cellular waste, boosting blood circulation, oxygen, and vital fluids to your face. This process, over time, reverses the signs of aging by rejuvenating the skin.
BONUS
Considering that stress is one of the most significant contributors to premature aging, Gua Sha is also fantastic at supporting stress-induced skin conditions.
Number 2: Liquid Botox Facial
This Botox facial is popular amongst many and requested for one reason: results.
This painless, natural alternative to Botox, firms, lifts, and plumps the appearance of expression and stress lines caused by facial muscle contractions around the forehead, eye, nasal folds, and lip areas.
"This all sounds great, but I don't want to leave home"
Well, no worries as you can experience some of these natural alternatives to Botox in the comfort of your own home with my Virtual Facial Events.
That's' right; just because you don't want to leave your home for some pampering or don't live in in Aspen doesn't mean you have to be left out to dry when it comes to skin care! I've created a way to bring you a variety of facials and skin care treatments, virtually.
Virtual Skincare Events
Virtual Facial Events for Your Special Occasion
Ever hear of Botox parties? Well, virtual facial parties are the new natural alternative to younger-looking skin. It is a unique and modern way to virtually connect with your girls in a fun, distinctive, and luxurious style. From virtual birthday parties to virtual bachelorette parties, Heaven On Earth Day Spa has you covered,
Virtual Skincare Classes
Achieve younger-looking skin without surgery, with my Skin Solutions Three Week Online Class. This cutting-edge skin care class gives you customized products, actionable tips, and resources to help you develop your own personal skincare routine so that you can keep up your skincare – all within the safety of your own home.
How Do These Virtual Events Work?
Simply invite your friends to attend on Zoom, that is, and I'll bring the technology, skin care, and the fun factor! This virtual facial approach lets you and your friends to be pampered on those special days, even during the pandemic!
Are you interested in hosting your own virtual facial party? Then, Heaven on Earth Day Spa is here for all your skincare and facial needs, even while you are stuck at home. Call or email me, Pila, and let me customize your own "Virtual Facial" experience.